After seeing some
motorcycles in Milwaukee
, Ollie and his group of travelers headed west. They made a stop in South Dakota at the World's Only Corn Palace!
Located in Mitchell, South Dakota, the Corn Palace serves as a multi-use center for the community and region. The facility hosts stage shows, as well as sports events in its arena. The World's Only Corn Palace is an outstanding structure which stands as a tribute to the agricultural heritage of South Dakota.
The original Corn Palace, called "The Corn Belt Exposition" was established in 1892. Early settlers displayed the fruits of their harvest on the building exterior in order to prove the fertility of South Dakota soil. The third and present building was completed at the present location in 1921.
Each year, the exterior decorations are completely stripped down and new murals are created. The Corn Palace Festival Committee selects a theme, and the murals are then designed by a local artist.
And now for some pictures:
The Outside of the Mitchell Corn Palace
Ollie Sitting on Top of the Sign Boasting the "World's Only Corn Palace"
Ollie & Kyle (Another of Our Nephews), Looking at an Exhibit
A Corn Picture
A Corn Picture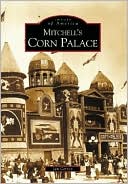 Kyle, Ollie, & Jimmy (The Three Amigos)...Acting Corny!
Three Corny Dudes!
I Think Ollie Was Ready to Go, But Didn't Realize That This Is Not an Exit! Silly Ollie!
It looks like Ollie and his traveling companions had a fun time at the Corn Palace. I wonder if Ollie learned any corny jokes while at the Corn Palace? I guess I'll have to find out and let you know, dear readers.
Until next time....
And That's What Sarah Said!!!